Is it still necessary to introduce Microsoft Teams today? 
MS Teams experienced the most significant increase in users during the pandemic. From 20 million users in November 2019, it grew by leaps and bounds to 44 million in March 2020 and 75 million in April 2022. However, in 2021, MS Teams was already used by 145 million daily active users, and in 2022 it was already 270 million, which is a more than tenfold increase in less than three years. Today, companies such as Accenture, Continental AG, Pfizer, and SAP all use MS Teams - software with the key advantage of deep integration with Office 365. 
On the other hand, there is a comprehensive application database in the MS Teams Store, an online marketplace where you can browse, try, buy, and deploy thousands of business applications and services that make using MS Teams even more effective. Today, there are already more than 6500 applications in AppSource. And Solvedio is finally among them!
"We decided to add Solvedio to the MS Teams Store to give our clients even easier access to our services and features through a single platform."
Vladimir Klimant - Business Development Manager 
Advantages of integrating Solvedio into MS Teams 
Integrating Solvedio into MS Teams brings you many benefits, such as increased productivity, easier collaboration, improved security, and more options for communication. 
If you are an existing customer, log in and start using the full potential of the Solvedio and Microsoft Teams combination. If you still need to become a customer, visit Solvedio and choose your solution, which will be ready immediately. Or be inspired by customer use cases such as Problem Solving, Innovation Management, Audit Management, and many more. 
There are several reasons why a good app should be in the Microsoft Teams Store. 
It is more accessible: MS Teams is one of the most popular applications for team communication and collaboration and using AppSource, Solvedio can be easily accessible to thousands of users. 
It offers additional features: Solvedio's integration with MS Teams can provide users with other features and capabilities, such as document collaboration, voice, video calls, etc. 
It increases our credibility: To be part of the MS Teams Store, Solvedio had to go through a detailed approval process and meet the demanding requirements of Microsoft. 
It helps us grow in all directions: MS Teams is becoming an increasingly popular tool for team communication and collaboration. Our integration with AppSource is another piece in the mosaic of the most convenient use of Solvedio.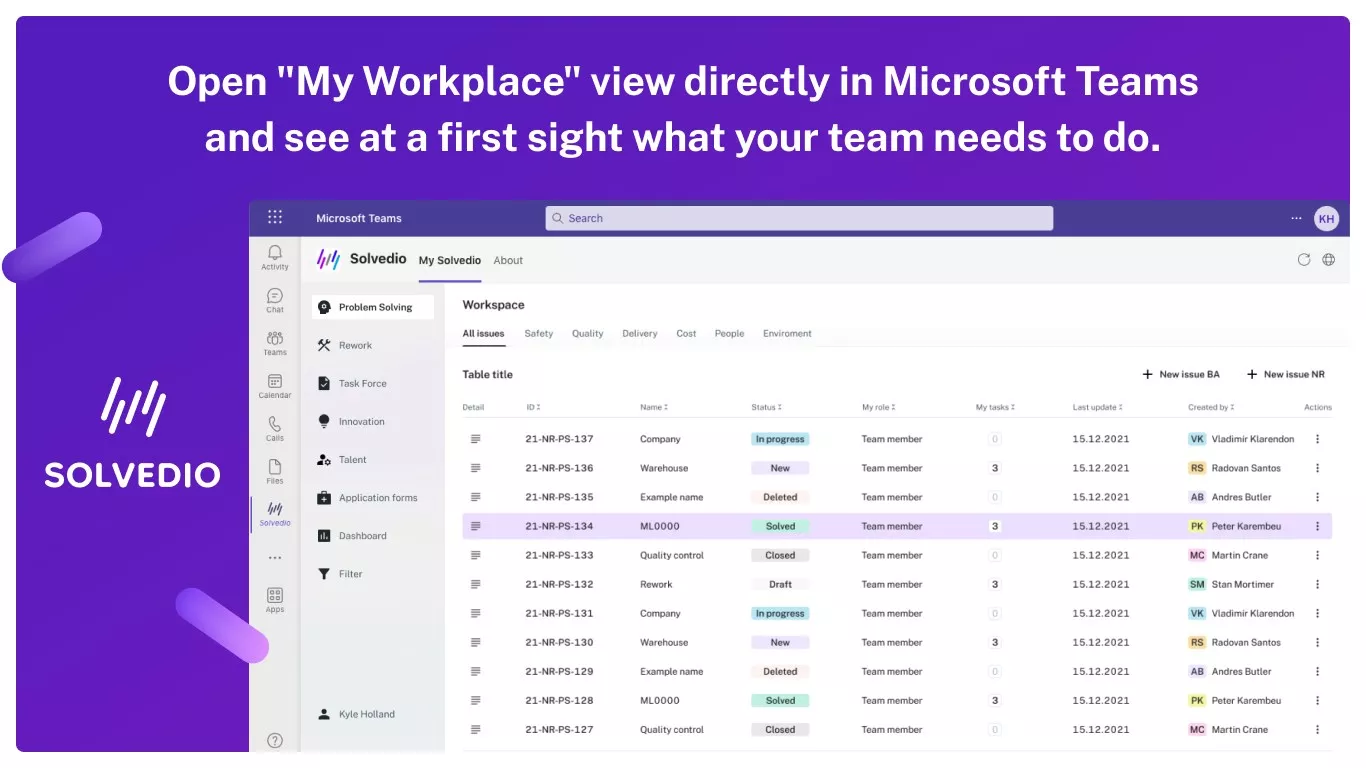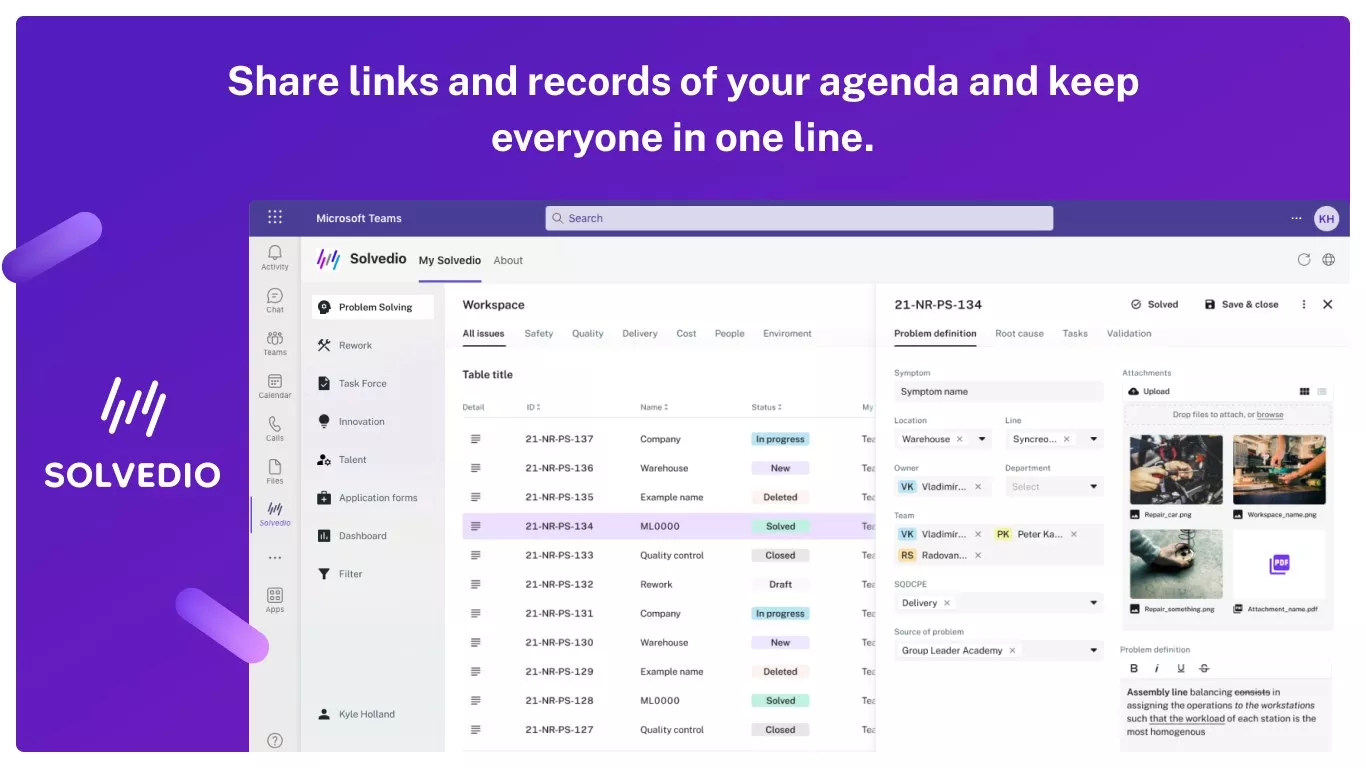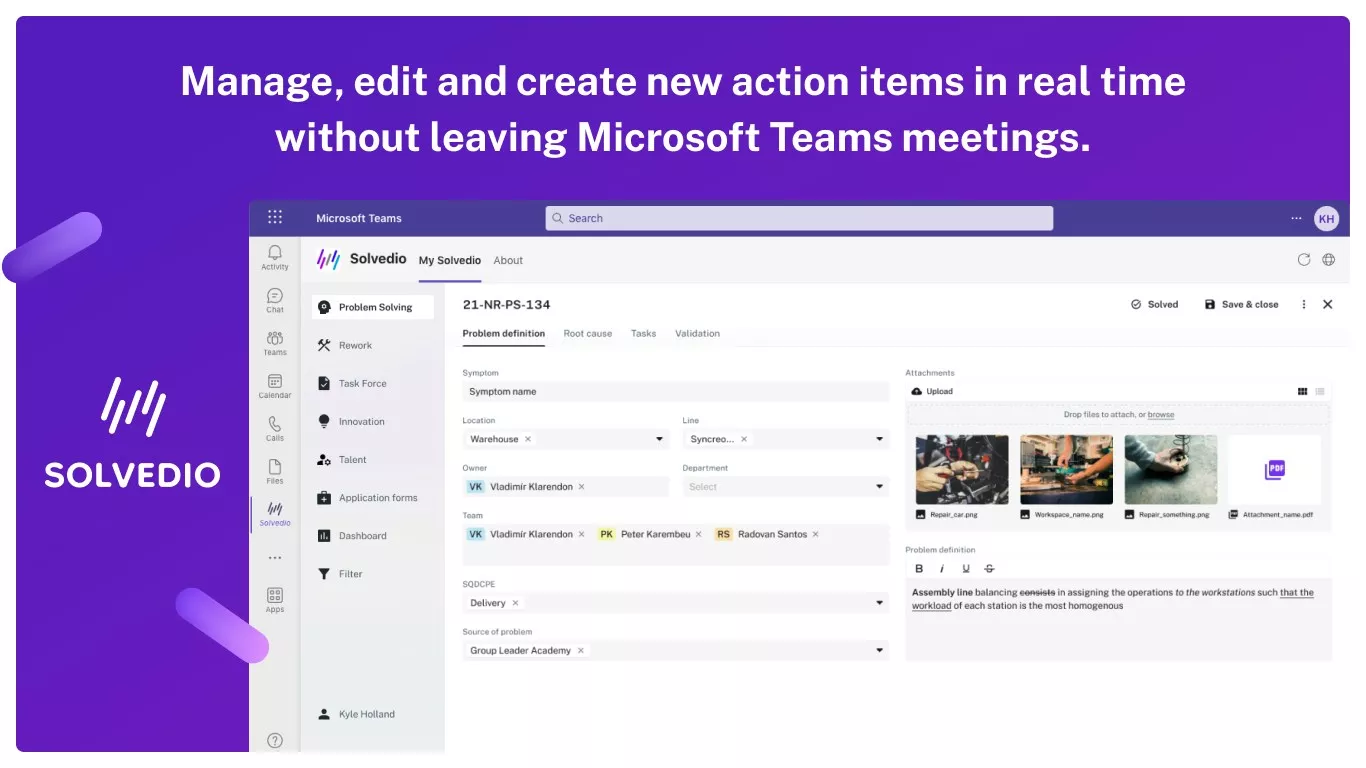 We also hope that being in the Microsoft Teams Store will contribute to the growth of our solution while increasing Solvedio's credibility with potential customers. 

However, the integration of Solvedio and MS Teams also brings many advantages to our customers and potential clients: 
More effective communication: Our users (and potential clients) can easily communicate and collaborate with colleagues through one platform, which means less time switching between different applications. 
Productivity increase: Solvedio integration with MS Teams can help users do their work faster and more efficiently because they can easily access the necessary information and functions. 
Easier Collaboration: Solvedio users can easily collaborate with colleagues on projects and documents, meaning less time spent searching and sharing information. 
Improved security: MS Teams provides a high level of protection for its applications, which means that our users can be sure that their confidential information is protected from unauthorized access. 
More options for communication: MS Teams provides a wide range of options for communication, such as chat, voice and video calls, webinars, etc., which allows the user to choose the most suitable form of communication for a particular situation. 
Integrating Solvedio with MS Teams can contribute to increasing productivity, more effective communication and collaboration, simplifying work, and improving security for the user. It can also provide more options for communication and make it easier to work with different projects and tasks. Integrating Solvedio with MS Teams also allows the user to use all the functions of MS Teams, such as file sharing, calendar, tasks, and more, which contributes to more effective time management and task coordination. 
We are confident that this integration will improve the work process for our clients, and we look forward to helping you with your tasks through MS Teams. 
Thank you for being with us; we look forward to serving you better. 
Ready to take your business to the next level?
Discover the power of the Solvedio platform today. Our experts are standing by to arrange a no-obligation call and give you an in-depth introduction to all the key features and capabilities. Click here to book your call and unlock the full potential of your business.