---
KPT ScaleUP, the leading accelerator of Industry 4.0, is launching a six-month support program for 11 foreign startups that will create specialized solutions for companies operating in Poland. The selected startups will work with Polish companies to implement their innovative solutions for industrial partners, including MAN Trucks, Maspex Group, Budimex SA, and Kęty Group.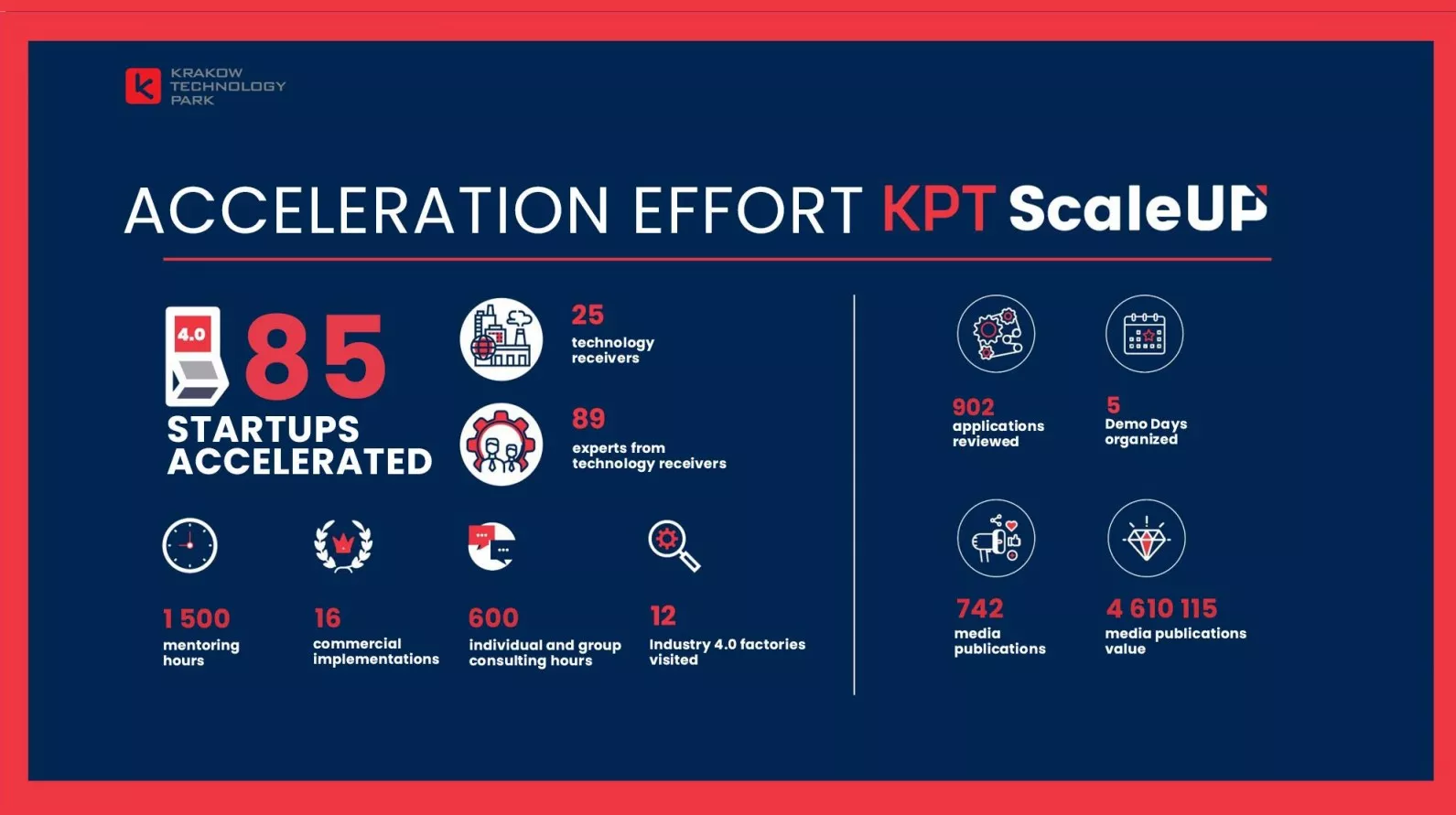 What is KPT ScaleUp Accelerator? 
KPT Accelerator is a support program for foreign startups that want to expand their activities in Poland. The program offers financing for the establishment of a company in Poland and product development, as well as assistance in establishing partnerships with Polish companies.  The program aims to benefit both startups and industrial giants by providing startups with support in entering the Polish market and industrial partners with the opportunity to accelerate their growth with their help.
KPT ScaleUP, the largest Industry 4.0 accelerator in Poland, has successfully connected startups with Industry 4.0 partners for four years. The program's effectiveness is evidenced by the successful commercial implementation of solutions developed by participating startups. 
Why did KPT ScaleUp choose Solvedio? 
KPT ScaleUP is looking for startups that have solutions to technological challenges, use technologies such as IIoT, VR, AR, AI, big data, robotics, and automation, help digitize business processes, and have a solution ready for testing and implementation. Solvedio meets all these requirements, and business digitalization is our strong point. 
Rafał Oświęcimka, an acceleration specialist at KPT ScaleUP, states that to ensure the recruitment of startups that are determined to expand their business internationally, they make a significant effort to communicate directly with the startup teams and provide them with information about the acceleration process. This allowed them to select companies that understand the rules of the accelerator program and are ready to comply with them. 
In addition to Solvedio, the following startups were selected for the program: AdvanGrid (Latvia), Haris Digital (Hungary), InovecTech (Czech Republic), Mellivora (Germany), Polycor Coatings (Sweden), PSCoat (Czech Republic), Recoshelf (Ukraine), Sinfosy Digital (Germany), Softli (Czech Republic), Solvedio (Slovakia) and Warden AI (Latvia). 
Our journey among the "top eleven" selected startups 
Even though Solvedio received an invitation to the accelerator directly from KPT, the path to the top eleven took much work. After filling out the profile, the first screening of 124 registered startups followed. We completed interviews with potential industrial partners, and then a "selection day" took place, where one of the partners chose us. It was already a massive success for us. We went to the "demo day," where we demonstrated Solvedio, encouraged by the previous success, but the competition was high-quality. Despite this, we also passed the second round. Moving Solvedio to the final eleven was a pleasant surprise for us but also an immense satisfaction and confirmation that we are on the right track with our DaaS concept. 
What will Solvedio gain by joining the KPT ScaleUp program? 
In addition to financial support, KPT ScaleUp provides startups with specialized backing throughout the acceleration program. We will have a professional team available to provide practical help and advice. The program offers access to a panel of industry experts from among KPT's partners and opportunities to network and receive mentoring and consultation from experts in various fields. Today, the KPT ScaleUP ecosystem includes more than 200 industrial companies and several investment funds. 
Poland is currently the 21st-largest economy in the world and the 6th-largest economy in the European Union. As neighbors, we are also geographically and culturally close. These ideal circumstances play in Solvedio's favor and present a vast opportunity to enter the foreign market. KPT ScaleUp will benefit us and help us advance on our path to success.