---
Our mission is to help companies achieve comprehensive enterprise digitalization. Digitalization is key to staying competitive in today's fast-paced, technology-driven world. We're committed to making it as simple as possible for businesses of all sizes and industries to embrace the digital age. In mid-November, we took another big step on our way to this goal: we launched a brand new website, which we have been working on for several months and which you are currently browsing. We are excited to share this new resource and introduce you to its features and benefits.
What is Solvedio?
Solvedio is an innovative product whose goal is to help companies achieve comprehensive enterprise digitalization. It can be tailored to the specific needs of different customers, regardless of their industry or workflow, and quickly add tools and features as needed to meet user requirements.
Whether you are a small business owner looking to streamline your business processes or a large corporation trying to modernize your workflows, Solvedio has something to offer you. Our innovative technologies and comprehensive digitization solutions will help you achieve your goals and take your business to the next level.
Advantages of digitalization as a service of Solvedio
Solvedio's Digitalization as a Service concept allows businesses to get an instant digital solution tailored to their specific needs. This approach offers many advantages, including convenient access to the solution on demand and the ability to scale up or down as needed.
Our DaaS offering focuses on providing customer services through the digital customer journey. Businesses receive an exceptional customer experience at every process step, from initial engagement to post-purchase support.
Pre-made packages for various needs and budgets
In addition, our digitalization as a service concept is designed to be as simple and seamless as possible. Customers can choose from several pre-made packages. These packages include the Quick and Perfect package for those looking for a quick and efficient solution, the Complex Digital package for additional features, and the Sophisticated package for those looking for a solution that matches many aspects of custom software. If none of these packages meet your needs, you can create your package and build the features precisely to your liking.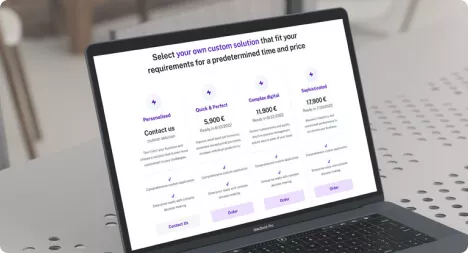 After choosing a package, our Solvedio analyst will consult with you on all requirements and create a solution proposal according to the latest methods. After approval, the analyst will proceed with the proposal. We will stay in touch throughout the process and ensure that the solution meets all your requirements. Your solution will be ready for you to try out exactly on the agreed date (usually within a few weeks). Payment will be made after the trial period.
Our Digitalization as a Service offering is designed to be as simple and hassle-free as possible. Customers can determine their solution's scope, value, and timing from the moment they start using it, ensuring they only pay for what they need.
Why have we launched the new website?
Our new website runs on Drupal 9, a leading content management system (CMS) known for its flexibility and scalability. We chose Drupal 9 for its robust security features and ability to handle complex content structures, making it the perfect choice for our needs. In addition to the technical aspects, our new website was designed with the user experience (UX) in mind.
We wanted to create a user-friendly and intuitive interface that would make it easier for our customers to find the information they need and use our DaaS offerings. We assume that our new website will function as an "e-shop" in the future, where businesses can "put digital solutions for their company in the basket."
Solvedio's new website is a game-changer in the digital world. By offering a customizable solution, businesses of all sizes and industries can digitize their operations quickly and easily. Solvedio's goal is to make the digitization process as straightforward as possible so that customers can focus on managing their businesses rather than on struggling with complex technologies.
Solvedio looks to the future
One of Solvedio's key features is its ability to adapt to each customer's needs. Whether you need a few essential tools or a comprehensive suite of digital solutions, Solvedio has you covered. As your business grows and evolves, Solvedio can grow with it, adding new features and capabilities as needed.
However, the advantages of the Solvedio solution continue beyond there. In the future, we envision a fully automated customer journey that will make it easier for customers to digitize their businesses. Customers can select the tools and features they need, configure them to their liking, and be up and running instantly.
Overall, Solvedio represents a new way of thinking about digitalization. Instead of a daunting and expensive process, digitalization becomes a simple and affordable service that can be tailored to the needs of any business. We believe this new approach will revolutionize how companies think about digitalization by making it easier and more accessible than ever before.
At Solvedio, we constantly look for ways to improve and expand our offer. Our future goals include further development and refinement of the DaaS concept to meet the evolving needs of our customers. We are committed to staying at the forefront of digitalization technologies and providing our customers with the best possible solutions and support.
We invite you to explore our new website and learn more about how Solvedio can help you transform your business.