Preventative Maintenance Solution
With Solvedio as your partner, you can adopt a proactive approach to prevent equipment failures, streamline maintenance processes, and empower your team to embrace a new era of reliable equipment management. Experience the efficiency of proactive maintenance management now.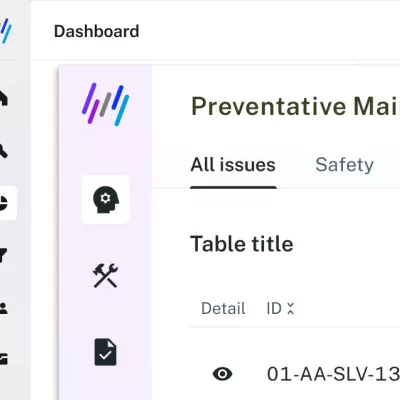 Schedule Maintenance Tasks Intuitively
Maint. Planner
Schedule maintenance tasks instantly from any device.
Upload photos and add a description of the maintenance task.
Suggest the ideal team for the maintenance task.
Manage Maintenance Inventory
Inventory Mngr.
Maint. Supervisor
Keep track of maintenance inventory in real-time.
Receive alerts for low inventory levels.
Initiate purchase orders for inventory replenishment.
Analyze Maintenance Data for Improvement
Maint. Mngr.
Maint. Supervisor
Analyze maintenance data to identify trends and patterns.
Generate reports for maintenance performance.
Use data insights to improve maintenance processes and schedules.
Ensure Compliance with Standards
Maint. Planner
Monitor maintenance tasks for compliance with industry standards.
Generate compliance reports for audits.
Initiate corrective actions for any non-compliance issues.
Facilitate Effective Communication
Maint. Supervisor
Technician
Use the platform for real-time communication with the maintenance team.
Share updates and information about maintenance tasks.
Collaborate effectively to ensure efficient maintenance processes.
Predict Potential Equipment Failures
Maint. Mngr.
Maint. Supervisor
Use predictive analytics to identify potential equipment failures.
Initiate preventative maintenance tasks based on predictive data.
Minimize equipment downtime and improve operational efficiency.
Manage Maintenance Costs Effectively
Finance Mngr.
Maint. Mngr.
Track maintenance costs in real-time.
Analyze cost data to identify cost-saving opportunities.
Generate financial reports for maintenance operations.
Experience the Benefits of the Preventative Maintenance Solution
The Preventative Maintenance Solution from Solvedio is designed to digitalize and streamline your maintenance processes, ensuring optimal equipment performance, minimizing downtime, and improving operational efficiency. With Solvedio, you can transform your maintenance operations and achieve your maintenance goals more effectively.
Effortless Maintenance Organization
Efficiently manage maintenance tasks and procedures, eliminating inconsistencies and improving overall productivity, leading to optimized operations.
Enhanced
Procedure Standardization
Digitalize maintenance processes and procedures, ensuring consistency and adherence to standardized protocols, improving quality, and reducing errors.
Improved
Equipment
Reliability
Proactively identify potential equipment failures using predictive analytics, enabling timely preventative maintenance actions, minimizing downtime, and maximizing equipment reliability.
Increased
Operational
Efficiency
Optimize resource allocation and minimize idle time through real-time inventory management, enabling uninterrupted production and efficient maintenance operations.
Seamless
Team
Collaboration
Facilitate real-time communication and information sharing among maintenance team members, fostering collaboration, increasing efficiency, and enhancing problem-solving capabilities.
Cost
Optimization
Track maintenance costs in real-time, identify cost-saving opportunities, and allocate resources effectively, reducing operational expenses and improving cost management.
Accessible
User-Friendly
Solution
Provide a digital platform that is easy to adopt, accessible from any device, and assimilated seamlessly into existing workflows, enabling quick implementation and user acceptance.
Data-Driven
Decision
Making
Harness maintenance data insights to identify trends, generate performance reports, and make informed decisions for continuous improvement, resulting in optimized maintenance processes and enhanced overall performance.
Join Our Customers Who Are Innovation Leaders in Their Industry
--- Discover a World of Exceptional Solutions from Solvedio
---
Start Using Your Tailor-Made Preventative Maintenance Solution Ready in a Few Weeks
Contact us and learn about Preventative Maintenance Solution today!
Get immediate access to a customized solution through our Digitalization as a Service approach.
Enjoy the convenience of a cloud-based Software as a Service (SaaS) without the need for costly infrastructure investments.
Seamlessly integrate your solution into organizations of any size, from start-ups to enterprise-level companies.
Embrace a tailored solution designed to meet your business and industry's unique needs and requirements.