Site Services Management Solution
Solvedio's Site Services Management Solution allows you to achieve a new level of productivity and accuracy in site operations and maintenance tasks. Enable your team to use innovative digital tools and approaches to simplify procedures. Experience the power of well-managed and efficient site operations with Solvedio.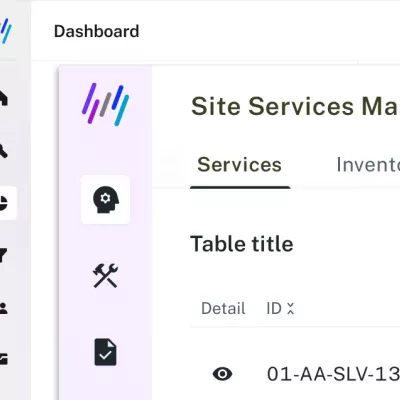 Log Service Requests in Intuitive Way
Site Mngr.
Maintenance Staff
Log service requests from any device instantly.
Upload photos and add descriptions to service requests.
Suggest the ideal team for the service execution.
Monitor Service Progress in Real-Time
Site Mngr.
Service Team
Track the status of service requests in real-time.
Receive notifications on service progress.
Access detailed reports on service completion.
Manage Site Inventory Efficiently
Inventory Mngr.
Site Mngr.
Keep track of the site inventory and equipment.
Receive alerts for low stock or equipment maintenance.
Automate the reordering process for inventory replenishment.
Schedule Regular Inspections
Site Mngr.
Maintenance Staff
Schedule regular maintenance tasks and inspections.
Receive reminders for upcoming maintenance tasks.
Record and track the results of inspections.
Optimize Site Operations with Insight
Site Mngr.
Operations Analyst
Analyze the site operations data for performance insights.
Identify areas for improvement and optimization.
Generate comprehensive reports for decision-making.
Streamline Collaboration
Site Mngr.
Service Team
Maintenance Staff
Facilitate communication between different teams and roles.
Share updates and information in real-time.
Collaborate on service requests and maintenance tasks.
Manage Vendor Relationships
Site Mngr.
Procurement Officer
Manage contracts and vendors relationships
Track contract renewal dates and terms.
Evaluate vendor performance and service quality.
Experience the Benefits of the Site Services Management Solution
Enable your site managers and technicians to drive meaningful improvements across your organization's services. Embrace effortless logging of service requests, real-time progress tracking, and optimized inventory management. With Solvedio, your team gains a competitive edge with data-driven insights, seamless collaboration, and the convenience of a mobile-friendly application.
Instant and Intuitive Service Requests Logging
Seamlessly log service requests from any device, including photos and detailed descriptions, eliminating delays and confusion.
Real-Time Progress Tracking
Stay informed and take action promptly, ensuring efficient and timely service delivery.
Efficient Inventory Management
Receive alerts for low stock or maintenance needs with automated reordering to always have enough essentials.
Scheduled Maintenance and Inspections Made Easy
Receive reminders for upcoming tasks and keep a comprehensive record of inspection results.
Data-Driven Operations Optimization
Utilize the power of data analytics to identify improvement areas and make informed decisions with comprehensive performance reports.
Streamlined Communication and Collaboration
Facilitate seamless communication between teams and roles, enhancing effective collaboration.
Simplified Vendor Contract Management
Keep track of renewal dates and terms while evaluating vendor performance and service quality to ensure the best partnerships.
Mobile-Friendly Convenience
Access all solution features on the go from any mobile device, allowing you to manage site services wherever and whenever you need.
Join Our Customers Who Are Innovation Leaders in Their Industry
--- Discover a World of Exceptional Solutions from Solvedio
---
Start Using Your Tailor-Made Site Services Management Solution Ready in Few Weeks
Contact us and learn about Site Services Management Solution today!
Get immediate access to a tailor-made solution through our Digitalization as a Service approach.
Enjoy the convenience of a cloud-based Software as a Service (SaaS) without the need for costly infrastructure investments.
Seamlessly integrate your solution into organizations of any size, from start-ups to enterprise-level companies.
Embrace a tailored solution designed to meet your business and industry's unique needs and requirements.