Internal Skills Sharing Solution
Explore the transformative potential of The Internal Skills Sharing Solution from Solvedio, tailored to elevate your organization's knowledge-sharing capabilities. Experience the power of a centralized database for expertise within your organization, revolutionizing the way you learn and develop together.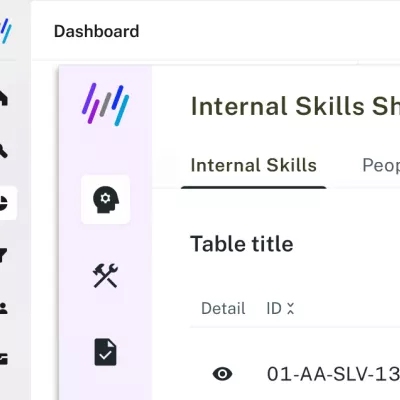 Capture and Share Expertise
Employee
Capture your expertise from any device.
Add detailed descriptions, images, or videos to enhance understanding.
Share your knowledge with the entire organization or specific teams.
Learn from Shared Knowledge
Employee
Access the centralized knowledge hub from any device.
Search for specific skills or browse categories.
Learn at your own pace with various formats (text, images, videos).
Facilitate Collaborative Learning
Employee
Team Leader
Create learning groups based on specific skills or projects.
Collaborate on shared documents and discussions.
Track progress and provide feedback.
Manage and Organize Knowledge
HR Manager
Team Leader
Categorize and tag knowledge for easy retrieval.
Monitor the quality and relevance of shared knowledge.
Update and archive outdated information.
Reward Knowledge Sharing
HR Manager
Team Leader
Set up recognition and reward systems for active knowledge sharers.
Promote knowledge sharing events and initiatives.
Track participation and engagement metrics.
Centralize best practices
HR Manager
Team Leader
Document and upload company-wide best practices.
Monitor and review shared content for compliance.
Update and maintain best practices as necessary.
Customize Learning Paths
HR Manager
Employee
Create personalized learning paths based on career goals or skill gaps.
Track progress and achievements.
Recommend relevant resources based on learning history.
Analyze the skills sharing system
HR Manager
Monitor overall engagement and utility of the platform.
Use analytics to make data-driven decisions about training and development.
Foster a culture of continuous learning and development within the organization.
Experience the Benefits of the Internal Skills Sharing Solution
Unlock the power of collective expertise within your organization. Seamlessly exchange knowledge, foster collaboration, and nurture a culture of continuous learning. Empower your team to grow together and drive unparalleled innovation with Internal Skills Sharing Solution from Solvedio..
Empower Continuous Learning
Unlock the potential of your team through a centralized expertise exchange hub, fostering continuous learning and collaboration.
Seamless Knowledge Transfer
Ensure smooth transitions and leave a legacy of expertise with streamlined handovers and knowledge continuity.
Accelerate Onboarding Success
Set new employees up for success with a clear path to learning and understanding their responsibilities.
Centralized Expertise Repository
Harness a comprehensive knowledge database, creating a central hub for best practices and company-wide expertise.
Data-Driven Learning Decisions
Drive growth with analytics-driven insights for training, development, and performance improvement.
Enhance Talent Retention
Foster a culture of continuous learning and knowledge sharing to boost employee satisfaction and retention.
Foster Innovation through Collaboration
Ignite creativity and innovation with collaborative learning, encouraging cross-team discussions and diverse perspectives.
Streamline Team Development
Improve individual and team performance with a user-friendly platform for sharing knowledge and insights.
Benefits for Organizational Functions
Benefits for
Employees
✓ Share knowledge and gain recognition.
✓ Mentor and guide other team members.
✓ Enhance career progression opportunities.
✓ Access a diverse range of internal knowledge.
✓ Improve job performance through shared insights.
Benefits for
Team Leader
✓ Promote a culture of knowledge sharing within the team.
✓ Identify expertise gaps and facilitate knowledge transfer.
✓ Boost team performance and development.
Benefits
for HR Manager
✓ Create a centralized repository of best practices.
✓ Facilitate continuous learning and development.
✓ Enhance compliance and process standardization.
✓ Foster a learning culture across the organization.
✓ Enhance decision-making with data-driven insights.
Benefits for
HR Department
✓ Improved onboarding and exit processes.
✓ Enhanced talent development and retention.
✓ Increased efficiency in knowledge management and skills development.


Benefits for
Organization
✓ Fostered culture of continuous learning and knowledge sharing.
✓ Improved productivity through better access to internal knowledge.
✓ Enhanced innovation through collaborative learning.
✓ Streamlined transitions of roles and responsibilities.
Join Our Customers Who Are Innovation Leaders in Their Industry
--- Discover a World of Exceptional Solutions from Solvedio
---
Start Using Your Tailor-Made Internal Skills Sharing Solution Ready in a Few Weeks
Contact us and learn about Internal Skills Sharing Solution today!
Get immediate access to a customized solution through our Digitalization as a Service approach.
Enjoy the convenience of a cloud-based Software as a Service (SaaS) without the need for costly infrastructure investments.
Seamlessly integrate your solution into organizations of any size, from start-ups to enterprise-level companies.
Embrace a tailored solution designed to meet your business and industry's unique needs and requirements.