Onboarding Process Solution
Simplify your organization's onboarding process with Solvedio's tailor-made Onboarding Process Solution. Seamlessly integrating new employees into your company has never been easier. Let Solvedio guide your new employees through each necessary step. Monitor progress in real-time to ensure a smooth transition for new hires, allowing them to focus on their roles and contribute to the organization's success from day one.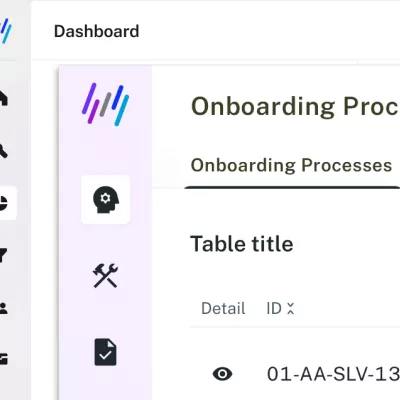 Seamless Document Collection
HR Manager
Collect necessary documents from new hires digitally.
Store and manage documents securely in one place.
Automate reminders for pending documents.
Efficient Task Assignment
HR Manager
Team Leader
Assign tasks to new hires based on their roles.
Monitor task completion in real-time.
Provide feedback and guidance digitally.
Digital Equipment Allocation
HR Manager
Assign necessary equipment to new hires.
Track equipment allocation digitally.
Automate equipment return process for exiting employees.
Interactive Training Modules
HR Manager
Team Leader
Create and assign training modules digitally.
Track progress and completion of training.
Provide feedback and additional resources as needed.
 
Easy Access to Company Policies
HR Manager
New Hire
Provide digital access to company policies and guidelines.
Track acknowledgment and understanding of policies.
Update policies and notify employees digitally.
Streamlined Communication
Team Leader
New Hire
Facilitate communication between new hires and team members.
Provide a platform for questions, discussions, and feedback.
Promote collaboration and team bonding.
Simplified Performance Tracking
HR Manager
New Hire
Track new hire performance during the onboarding period.
Provide feedback and guidance based on performance.
Identify areas of improvement and provide additional training.
Automated Onboarding Schedule
HR Manager
New Hire
Create a digital onboarding schedule for new hires.
Send reminders for upcoming tasks and meetings.
Allow new hires to manage their onboarding process.
---
Experience the Benefits of the Onboarding Process Solution
The Onboarding Process Solution from Solvedio streamlines the integration of new employees into your organization. With our digital platform, you can automate the entire onboarding process, from document collection to equipment allocation.  Initiate the onboarding process from any device, let Solvedio guide the new hire through the necessary steps, and monitor the progress to ensure a successful onboarding experience.
Accelerate Onboarding Experience
Streamline the onboarding process from any device, ensuring new hires hit the ground running and become productive swiftly.
Empower Guided
Learning
Guide new hires with interactive training modules and instant support, fostering a confident and competent workforce.
Real-time Progress Tracking
Monitor new hire progress, proactively identify and resolve any challenges, and keep the onboarding journey on track.
Guaranteed Compliance Assurance
Ensure compliance effortlessly by securely storing paperwork, verifying adherence to regulations, and generating reports as needed.
Seamless Team
Integration
Cultivate a cohesive work environment by introducing new hires to teams, fostering inclusivity, and promoting team-building activities.
Enhanced Onboarding Success
Leverage feedback to evaluate and enhance the onboarding process, making each future onboarding experience more effective.
Optimized Onboarding Management
Manage onboarding materials efficiently, ensuring easy access for new hires, and continuously refining resources based on feedback.
Nurturing Career
Growth
Foster professional development with tailored career discussions, abundant resources, and proactive support for new hires' career progression.
Benefits for Organizational Functions
Benefits for
HR Manager
✓ Streamlined onboarding process.
✓ Reduced paperwork and manual tasks.
✓ Improved compliance with company policies.
Benefits for
Team Leader
✓ Efficient task assignment and tracking.
✓ Improved communication with new hires.
✓ Better understanding of new hire performance.
Benefits for
New Hire
✓ Smooth transition into the organization.
✓ Clear understanding of tasks and responsibilities.
✓ Easy access to resources and communication channels.
Benefits for
HR Departement
✓ Improved efficiency and productivity.
✓ Better compliance with company policies.
✓ Enhanced employee experience from day one.

Benefits for
Organization
✓ Faster integration of new hires into the organization.
✓ Improved employee satisfaction and retention.
✓ Increased overall productivity and success.
Join Our Customers Who Are Innovation Leaders in Their Industry
--- Discover a World of Exceptional Solutions from Solvedio
---
Start Using Your Tailor-Made Onboarding Process Solution Ready in a Few Weeks
Contact us and learn about Onboarding Process Solution today!
Get immediate access to a customized solution through our Digitalization as a Service approach.
Enjoy the convenience of a cloud-based Software as a Service (SaaS) without the need for costly infrastructure investments.
Seamlessly integrate your solution into organizations of any size, from start-ups to enterprise-level companies.
Embrace a tailored solution designed to meet your business and industry's unique needs and requirements.