Employee Exit Process Solution
Streamline and simplify your employee offboarding process with Solvedio's Employee Exit Process Solution. It allows you to systematically track returnable items, document knowledge transfer, and maintain an organized exit process. Empower your HR team and bid farewell to employees with confidence using our automated offboarding experience.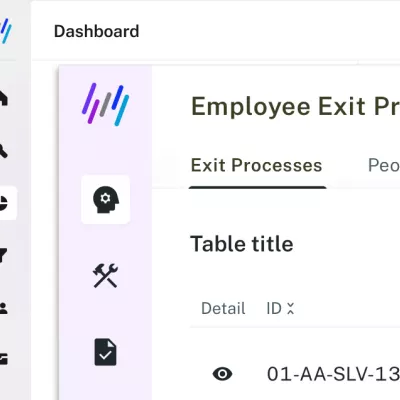 Manage Exit Documentation
Employee
HR Manager
Initiate an automatic checklist of necessary offboarding paperwork.
Receive and submit forms digitally.
Archive submitted documents for future reference.
Manage the Handover of Assigned Items
Employee
HR Manager
List all physical and digital assets assigned to the leaving employee.
Schedule the return of physical items like laptops, access cards, etc.
Systematically deactivate the employee's digital accounts and authorizations.
Schedule Exit Interviews Right Away
Employee
HR Manager
Propose available slots for an exit interview.
Confirm and notify all parties about the scheduled meeting.
Digitally record and store the interview notes and feedback.
Ensure Consistent Knowledge Transfer
Employee
HR Manager
Identify key areas of knowledge transfer.
Schedule meetings between the leaving employee and their successor.
Document and store the meetings' notes for future reference.
Manage Knowledge Transfer
Employee
HR Mngr.
Finance Mngr.
Calculate any outstanding financial dues payable and bonuses.
Initiate the process for the full and final settlement.
Confirm receipt and agreement of the FnF settlement details.
Collect and Review Feedback
Employee
HR Manager
Send out digital feedback forms or surveys.
Collect, analyze, and archive feedback for process improvement.
Cancel All Authorizations Easily
HR Manager
Review and confirm all employee's authorizations and accesses.
Systematically revoke physical and digital access rights.
Notify security and IT teams for confirmation.
Maintain Alumni Network
Employee
HR Manager
Offer an invitation to join the organization's alumni network.
Register and send credentials for the alumni network.
Engage alumni for future collaborations or references.
Experience the Benefits of the Employee Exit Process Solution
Optimize your offboarding process with Solvedio's Employee Exit Solution. Simplify HR workflows, expedite approvals, and foster productivity with real-time tracking and seamless data-driven decisions. Say goodbye to leaving employees confidently with our streamlined and automated offboarding experience.
Streamlined
Offboarding
Efficient and organized offboarding processes for leaving employees minimize delays and paperwork.
Enhanced
Security
Systematic revocation of digital authorizations reduces the risk of security breaches.
Improved
Compliance
Digital records for better auditing and compliance with regulations.
Prompt Financial
Settlements
Fast and accurate financial settlements for leaving employees.
Efficient Transfer
of Knowledge
 Seamless knowledge transfer and responsibilities to successors.
Active Alumni
Engagement
Continued collaboration with former employees through alumni networks.
Data-Driven
Improvements
Collecting feedback and analyzing trends for continuous process improvements.
Consistent
Experience
Providing a consistent offboarding experience for all employees encourages positive employer branding.
Benefits for Organizational Functions
Benefits for
Employees
✓ Transparent offboarding process.
✓ Prompt financial settlements.
✓ Continuous engagement through alumni networks.
Benfits for
HR Manager
✓ Streamlined processes and reduced paperwork.
✓ Better insights into reasons for leaving the organization.
✓ Faster closure of offboarding formalities.
Benefits for
HR Department
✓ Consistent offboarding experience for all employees.
✓ Digital records for better compliance and audits.
✓ Enhanced ability to collect feedback for process improvements.

Benefits for
Organization
✓ Improved security and revocation of authorizations.
✓ Maintenance of positive relationships with former employees.
✓ Continuous improvement in the offboarding process.
Join Our Customers Who Are Innovation Leaders in Their Industry
--- Discover a World of Exceptional Solutions from Solvedio
---
Start Using Your Tailor-Made Employee Exit Process Solution Ready in a Few Weeks
Contact us and learn about Employee Exit Process Solution today!
Get immediate access to a customized solution through our Digitalization as a Service approach.
Enjoy the convenience of a cloud-based Software as a Service (SaaS) without the need for costly infrastructure investments.
Seamlessly integrate your solution into organizations of any size, from start-ups to enterprise-level companies.
Embrace a tailored solution designed to meet your business and industry's unique needs and requirements.