Job Rotation Management Solution
With Solvedio's Job Rotation Management Solution, you can transform your organization's approach to employee management. Change the way you plan, track, and manage employee rotations across departments, projects, and international offices. Help your organization optimize human resources, facilitate knowledge exchange, and increase team flexibility.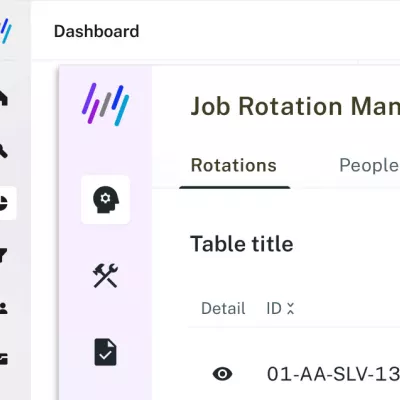 Establishing Rotation Plan
HR Manager
Create a job rotation plan directly from any device.
Assign employees to different departments, projects, or offices.
Define the duration and objectives of each rotation.
Scheduling and Managing Rotations
Department Mngr.
Team Leader
Access and manage rotation schedules from any device.
Swap or modify shifts quickly and conveniently.
Track and manage individual employee paths and rotations.
Ensure Smooth Handovers
HR Mngr.
Department Mngr.
Employee
Ensure all tasks and responsibilities are handed over properly.
Confirm successful completion of handovers.
Record and track items that need to be handed over.
Handle Rotation Requests
HR Mngr.
Department Mngr.
Employee
Employees can request for specific rotations.
HR can approve, modify, or reject rotation requests.
Track the status of rotation requests.
Monitor Rotation Performance
HR Mngr.
Department Mngr.
Monitor and evaluate the performance of employees post-rotation.
Receive feedback from employees about their rotation experience.
Use data-driven insights to optimize future rotations.
Compliance and Record Keeping
HR Manager
Keep a detailed record of all rotations for compliance purposes.
Access and manage rotation history for each employee.
Ensure all rotation activities adhere to company policies and regulations.
Improve Skills and Knowledge
HR Mngr.
Department Mngr.
Employee
Identify skills and knowledge acquired from rotations.
Incorporate new skills and knowledge into the employee's profile.
Use this information to inform future rotations and career development.
---
Experience the Benefits of the Job Rotation Management Solution
Unleash the full range of business benefits that planned staff rotations can provide. It's about more than just rotations; it's about achieving your business goals and staying competitive. Utilize Solvedio's Job Rotation Management Solution to achieve strategic excellence.
Targeted Skill Enhancement
Develop a dynamic workforce with tailored rotations that cultivate specific skills and expertise.
 
Informed Performance Optimization
Harness data-driven insights to elevate employee performance across roles, ensuring lasting impact.
Agile Talent Planning
Effortlessly adapt to changing business needs by seamlessly designing, assigning, and reshaping rotation plans.
 
Seamless Cross-Functional Collaboration
Break down silos with transparent communication, aligning teams for cohesive achievements.
 
Real-time Adaptability
Navigate evolving situations with instant rotation updates and agile management tools.
Strategy-Backed Decision Making
Empower leadership with actionable insights, revolutionizing future planning based on data-driven clarity.
Compliance
Confidence
Maintain regulatory compliance effortlessly with meticulous rotation records and documentation.
Holistic Workforce Empowerment
Nurture employees into well-rounded experts, fostering loyalty and aligning career paths with your vision.
 
Benefits for Organizational Functions
Benefits for
HR Manager:
✓ Efficient scheduling and tracking of staff rotations.
✓ Streamlined handling of rotation requests.
✓ Improved communication with employees and managers.
✓ Enhanced ability to ensure compliance with company and legal requirements.
Benefits for
Department Manager:
✓ Clear visibility of staff rotations in their department.
✓ Easier handover management.
✓ Improved communication with HR and employees.
✓ Better understanding of the skills and knowledge of their team members.
Benefits for
Employee:
✓ Transparency in the rotation schedule.
✓ Easy way to request specific rotations.
✓ Clear understanding of handover responsibilities.
✓ Opportunity to provide feedback and communicate effectively with HR and managers.
Benefits for
HR Department:
✓ Improved management of staff rotations across the organization.
✓ Enhanced compliance and auditing capabilities.
✓ Better understanding of employee skills and experiences, enabling more informed decision-making.
✓ Improved communication with employees and department managers.
Benefits for
Organization:
✓ Optimized use of human resources.
✓ Enhanced knowledge exchange and team flexibility.
✓ Improved compliance with policies and legal requirements.
✓ Better employee satisfaction and engagement due to transparent and efficient rotation processes.
Join Our Customers Who Are Innovation Leaders in Their Industry
--- Discover a World of Exceptional Solutions from Solvedio
---
Start Using Your Tailor-Made Job Rotation Management Solution Ready in a Few Weeks
Contact us and learn about Employee Exit Process Solution today!
Get immediate access to a customized solution through our Digitalization as a Service approach.
Enjoy the convenience of a cloud-based Software as a Service (SaaS) without the need for costly infrastructure investments.
Seamlessly integrate your solution into organizations of any size, from start-ups to enterprise-level companies.
Embrace a tailored solution designed to meet your business and industry's unique needs and requirements.